How to Design a Kitchen Backsplash
The past few weeks on Roomhints app our designers have been getting a lot of questions on how to pick the right tile for your kitchen backsplash or bathroom design. So, to help you create a beautiful kitchen backsplash design, we interviewed the fabulous designer, Ryan Saghian, founder of the Design Firm Ryan Saghian. Read more below to learn about his career in design and his hints for picking right tiles for your kitchen backsplash.
1. What is your background/history in design?
Ryan: "I started working in the Interior Design industry when I was 15 years old as an intern. I stayed with that company throughout college eventually becoming the design assistant to both principles. When I graduated from college I launched Ryan Saghian Interiors and have been on my own ever since!"
2. How do you choose a tile for a project?
Ryan: "I begin selecting conceptually based on design and aesthetics and then I narrow it down based on my clients lifestyle and durability."
3. What are some things to consider to choose the right tile for a project?
Ryan: "Your lifestyle. Some prefer design over function. In your kitchen for example, do you plan to cook a lot? Entertain? Tile that can withstand acidic foods would be your go to. Many people think the more durable porcelains or quartz materials wont be as beautiful but the possibilities are endless now!"
4. What products/tiles do you love for a kitchen?
Ryan: "My go to is Ann Sacks. I love all their mosaics for a kitchen backsplash and flooring."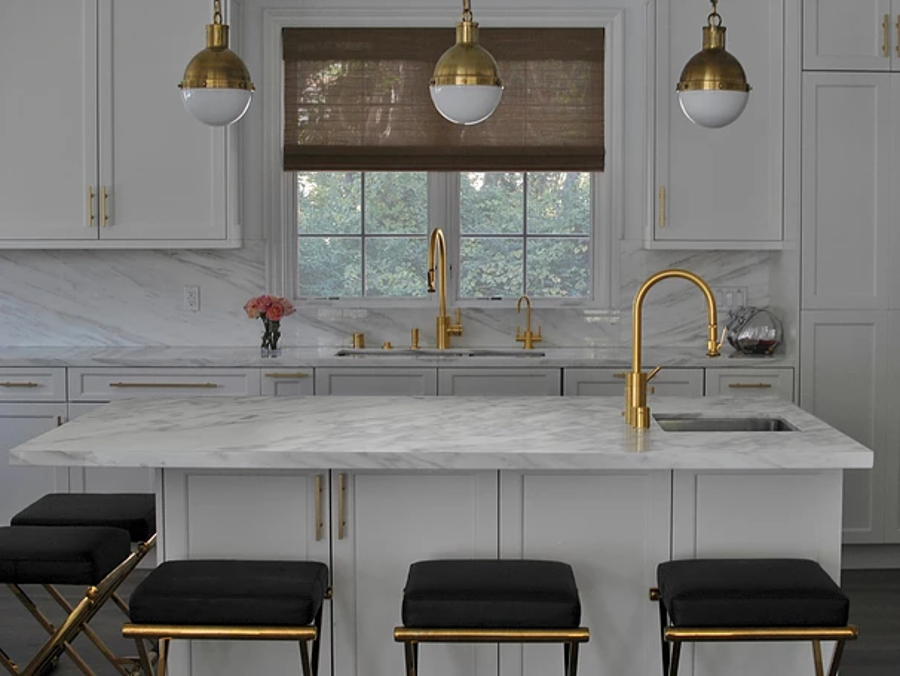 5. You use a lot of marbles with rich colors in them. Why do you choose these marbles for the space vs. more plain marbles without large striations?
Ryan: "I like to design bold spaces that have lasting impact and I find that the rich materials I gravitate towards do just that."
6. What products/tiles do you love for a bathroom?
For me nothing is as beautiful as a dramatic book-match slab! Shower walls, floors… I love it all!
7. What has been on surprising thing you have learned that has helped you to design beautiful spaces with tiles?
Ryan "When picking tiles, don't limit yourself to the manufacturers sizes. I love to cut on site and make my own patterns!"