A GUIDE TO STAIR RUNNERS
Though hardwood stairs can be beautiful, installing a stair runner certainly has its advantages. If you have kids, it's a really good idea to add a stair runner. A stair runner also protects the hardwood on your stairs, helps with noise reduction, and offers an opportunity to add a fun design element to your home.
Roomhints has compiled this guide to help you pick the right stair runners for your home.
1. Decide on the design
Contemporary with a pattern?
This design works if the rest of the colors in your hallway matches. It's always a good idea to go with a design that is not too busy.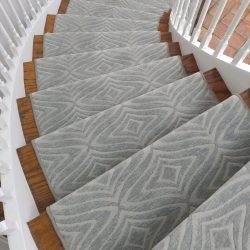 Minimal chevron design
This design is one of the most popular as the chevrons add some flare to the stair runner and also it's easy to pair this color with the rest of your space. Stair runners with a pattern show dirt or stains less than those without a pattern.
Modern design
For a more modern look, neutrals and natural fibers are a good option (though keep in mind that materials like sisal can be slippery!)
Mia, a woven 100% wool carpet, makes for a #beautiful stair runner. Installation by @thecarpetworkroom
Stripe design
Striped runners have really been gaining popularity recently.

Image via. Weston Carpet
2. Decide on the color
Stairs can take quite a beating. If your home has a strict no-shoes rule, lighter colors will work fine, but if there will be a lot of shoes walking up and down your stairs, consider darker colors and busier patterns.
We always recommend going with a neutral color as it will match well with your entire home.
You can add some personality with color on the trim
Yellow Trim
The black trim is a class design and works well with homes that love that mid-century modern design look.
Or if you are really feeling bold – go for the animal print runner!
Image credit Annie Selke 
There are two installation styles when it comes to stair runners: Waterfall vs. Hollywood
Waterfall installation
The carpet is attached only at the base of each riser, allowing it to cascade over the top of each step. This works well for striped or patterned carpet, as the pattern appears to run more smoothly down the staircase.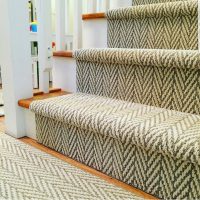 Hollywood installation (also known as "upholstered,")
The carpet is wrapped under the nose of each step in addition to being attached at the base of each riser, completely hugging each step. Hollywood requires more carpet and more installation time but can create a more finished, tailored look.
We hope this article helped you to understand the best stair runner for your home. Comment below if you have any questions.
Cheers,
Roomhints