After motherhood, Haley Dixon took on a passion and a new career
What was your path to becoming a designer?
After our twins were born, I really desired a career that I was passionate about where I could plan my own schedule and not miss a moment with my children. After staying home with them for four years and listening to friends and family say countless times upon visiting my home, "You should be an interior designer!", I finally listened to their advice and took the plunge. This is the best decision I could have made and I love every moment I spend creating beautiful spaces.
Tell us about your work.
In my designs, I try to bring a unique flavor to any style. I love pairing things that are unexpected, adding texture and fun to add personality to each project. The style choice of my client is always the top priority and I strive to incorporate my own specific touch within that style to create a look that perfectly blends the two.
What is your favorite part of your day?
The morning! Each day brings a chance to have a positive outlook. If a project or circumstance becomes challenging, the next morning always offers a fresh perspective and opportunity to move forward.
How would you describe your style? How does it translate to your work?
My home is somewhat of an eclectic farmhouse. A little modern, a little rustic, a few antiques, some classic, some trendy, tons of textures and patterns, and all within a neutral palette. In every project I tend to have an eclectic flair which varies in tenacity from client to client.
What has your experience been with decorating your own space? How is decorating for yourself different from decorating for other people?
I feel like I'm constantly working on and tweaking my own home. Shopping for clients almost always leads to new pieces for myself! Generally, I'm more decisive and clear on the direction for a project space. My home, however, seems to be more fluid.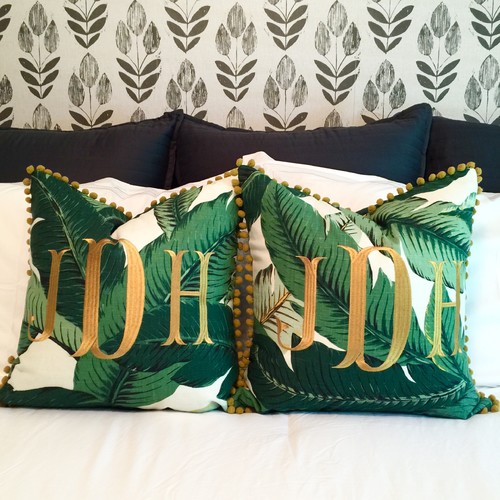 What, in your opinion, makes a space feel homey?
In my opinion, adding texture along with florals or greenery adds so much softness and comfort to a space. Rugs, throw blankets, pillows, baskets, plants, fresh flowers, etc.
What is one element that can draw a room together when it feels like nothing goes together?
For spaces that need quick and affordable help, new pillows have the power to bring together an entire color scheme. Finding a pillow that combines the colors of a room lacking cohesiveness, draws the space together and gives it intention.